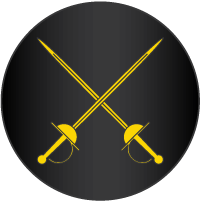 Greetings!
Welcome to the East Kingdom Rapier Web Site!
Baron Caine Ramsey is the new East Kingdom Marshal of Fence.
On this site you will find information regarding the rules of East Kingdom Fencing, the people involved in the practice of defense in the East Kingdom, practices that are available, resources that are available to fencers starting out, finding more information to make a better kit, historical and practical advice regarding fencing and merchants that are helpful to the recreation of historical fencing. We have recently revised this site and hope that you enjoy the new look.   Everyone involved with the website hopes that you find it informative and helpful. If you have suggestions regarding the website, please contact our This e-mail address is being protected from spambots. You need JavaScript enabled to view it .
All external links are not part of the East Kingdom Rapier website. Inclusion of a page or site here is neither implicit nor explicit endorsement of the site. Further, SCA, Inc. is not responsible for content outside of rapier.eastkingdom.org.