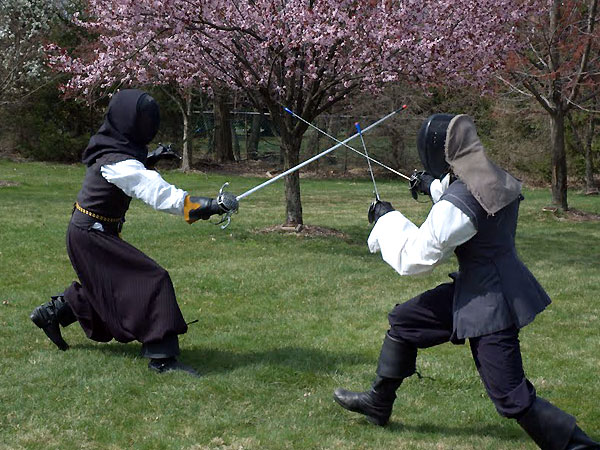 In simple terms, it's good old fashioned swashbuckling. If you've watched a Three Musketeers or Zorro movie, then you have seen the Hollywood version of this kind of swordplay. If you've seen modern fencing at the Olympics or a college, then you've seen the kind of fighting that descended from rapier combat.
Rapier combat is a recreation of a duel with swords. The combatants are considered unarmored (though armor is worn for safety) and wield rapiers. A rapier is a lighter sword than a broadsword. It was designed largely to attack with the point as a stabbing weapon, though it was sharp and could still cut. (As opposed to the hacking attacks of a broadsword being their primary use.)
Fighting with a rapier is generally less about strength, and more about finesse and skill.
(Soon we hope to have some videos showing rapier combat!)
SCA rapier combat has a lot of similarities to modern fencing – and that's not surprising. After all, modern fencing is the evolution of period rapier combat. There are differences though.
The swords are heavier – many of the techniques used with the modern foil, epee or saber will not work as well with the heavier rapiers.
The action is slightly slower – this is partly due to the weight of the blades and partlly due to the greater stiffness of the blades. The stiffer blade can hit harder and therefore we require more control and restrict some of the more aggressive tactics.
We use more weapons – it wasn't uncommon to wield a sword and a dagger in period, and we do the same in our combat.
All that said, anyone who's had training in modern fencing will find much of their technique will translate to SCA rapier combat.
If you've never picked up a sword before, that's ok too – many of us got our start here!